Our bathroom cabinet design services will transform your space.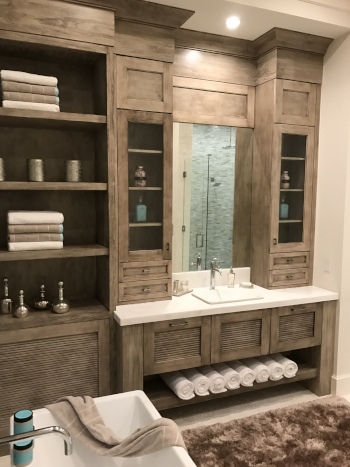 When you are considering renovating your bathroom, you want to make sure you carefully consider the space you have available and everything you want to incorporate. You likely need to figure out what is most important to you, such as if you want to add a walk-in shower or a large soaker tub. But one thing you might not think to consider is how much storage you will need in your bathroom.
This is where our bathroom cabinet design services can really help you out. We can help design cabinets for you that will maximize your space, give you plenty of storage options, and help you get everything you want out of your new bathroom. We can add drawers for storage or even a large linen cabinet to make storage easy. We can work with the space you have to come up with the perfect cabinet design.
At Briteway Remodeling, we know it is important for you to love your bathroom cabinets and for them to not only be functional, but beautiful as well. As part of your bathroom cabinet design, we can not only help you with the layout of the cabinets and storage options, but we can also help you get cabinets that are exactly the style and color you are looking for.
We offer many design options, like shaker style cabinets, modern cabinets, and traditional cabinet styles. We also offer a variety of paint colors and stain options to finish off the cabinets and create the exact style you want.
If you are in Matthews, North Carolina and are interested in bathroom cabinet design for your bathrooms, reach out to us today. We are experienced and do excellent work. We use quality materials and pay close attention to make sure every job we do is done to our high standard of quality.