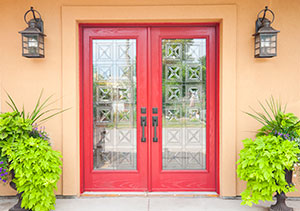 You have many options available to you when it comes to designing your own custom doors for your home's entryway. With every type of material, shape, and size come different benefits and considerations to keep in mind when making your final decision. One option for your front doors is installing glass front doors, which come with many different benefits.
The glass is easily customizable. Do you want simple glass doors or an opaquer look? Is decorative glass more your style? Glass front doors are easy to make your own, in large part due to how customizable glass itself is, so if you have a particular aesthetic you're looking for, glass front doors may be exactly what you're looking for.
You can take advantage of the natural light. Natural light can make a home feel more open and warmer inside. It's also great if you want to save on your electricity bills but still want to have enough light during the day to go about your daily business.
They're low maintenance. No matter what material you choose for your front doors, there will be some maintenance involved. However, if you're a busy person and want to spend as little time on cleaning and maintenance as you can, you may want to consider glass front doors. Glass doesn't rot like wood does, and it's also relatively easy to clean.
Are you interested in custom glass front doors for your home? If so, or if you just need more help deciding what kind of custom front door works best for you, call us here at Briteway Custom Cabinetry and Woodworking today.