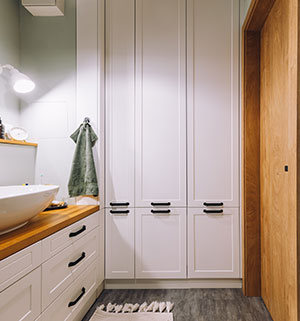 Shaker bathroom cabinets are popular for homeowners who want clean lines, a simple design, and versatility. The Shaker style has been around for centuries because of its classic look and solid construction.
Let's take a closer look at why Shaker bathroom cabinets remain popular today:
They have a truly timeless design. Shaker style cabinets are the pearls of cabinet styles — they transcend the trends and never go out of style. These cabinets' simple and elegant lines look good with virtually any home décor trend.
Shaker bathroom cabinets are versatile. You can choose to have the cabinets painted or stained to match any bathroom décor, and the cabinets can look modern, rustic, traditional, or even boho with the right color.
You can expect solid construction. Shaker bathroom cabinets are known for their quality construction and durability. They are built to last and can withstand the moisture and heat of a bathroom environment.
You'll get a good value. When compared with other cabinets, Shaker cabinets are a more affordable option. They give your bathroom a high-quality look, which makes them a popular choice for remodels.
They save space and are easy to clean. Shaker-style cabinets have a smooth surface that is easy to clean. Shaker bathroom cabinets also require less space, making them an excellent choice for small bathrooms.
If you're looking to update your bathroom with a classic look that can last for many years, Shaker cabinets should be on your list. Contact us today to learn more about your Shaker bathroom cabinet options.